This wiki is still heavily under construction; help would be appreciated!
Welcome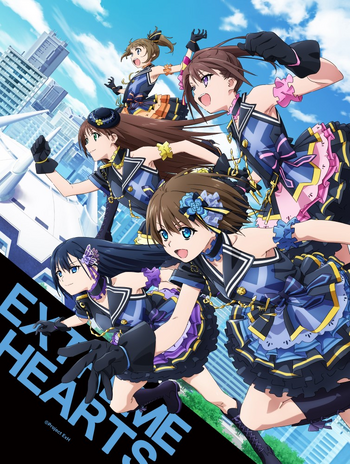 Welcome to the Extreme Hearts Wiki, this wiki is dedicated to everything related to the Extreme Hearts series that anyone can edit. Please help by editing or adding articles and lessening the stubs. We currently have 440 edits to 17 articles and 51 images on this wiki since February 11, 2022.
Please be aware that this Wiki contains SPOILERS, read with caution!
---
Story
The story is set in the near future.
"Hyper Sports" became a hobby competitions that is popular with children and adults alike. Hiyori Hayama is an high school singer who has nothing to do with Hyper Sports. However, the story is set in motion after a certain incident and encounter.
"This is the story about how we met our best friends."
Affiliations
---
Want to affiliate with us? Please contact an administrator.
News
New character PV was released! (June 24, 2022)
Team May-Bee's character PV was released! (June 17, 2022)
Lise Kohinata's character PV and a commercial for the anime was released! (June 10, 2022)
Latest PV